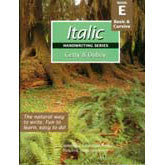 Italic Handwriting Series: Book E
$10.95
This is the fifth of seven books providing instruction in italic handwriting. We recommend Book E for fourth grade.

This book is designed to provide further practice with cursive capitals and lowercase joins. For the student new to italic handwriting an introduction to basic italic is provided, as well as an overview of the cursive joins.

Writing practice includes vowel sounds, consonant sounds, phonograms, prefixes, suffixes, and other letter combinations. Sentence content includes the animal kingdom, the plant kingdom, the mineral kingdom, vegetation zones/biomes, our solar system, and galaxies. Cursive capital practice includes origins of our alphabet and cities of the world. Application form, letter/booklet format, and envelope making are presented.