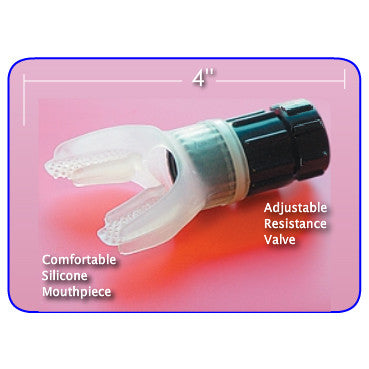 Expand-A-Lung
$29.95
Currently sold out. Please find it on amazon here : https://amzn.to/324THBi 
The "EXPAND-A-LUNG" inspiratory / expiratory breathing resistance exerciser is a breakthrough product for increasing lung capacity and endurance.-- Research supports that this type of exercise significantly improves the strength of respiratory muscles, and increases the volume of lung ventilation.

It is a fact that breathing resistance exercise will develop stronger lungs, and this in turn can provide an endurance advantage for any sport, and nobody does it better than Expand-A-Lung. The Expand-A-Lung can also be beneficial to people who suffer from shortness of breath, due to natural aging and respiratory disorders.

The Expand-A-Lung breathing exerciser is modeled after the relaxing and slow breathing exercises used in Yoga and Tai Chi. Our exercise promotes relaxation and proper breathing technique, but with the addition of adjustable resistance to meet anyone‰۪s needs. It is a slow and continuous flowing breathing resistance exercise, inhaling and exhaling through the comfortable mouthpiece. This is by far a more complete and effective breathing exercise than one provided by threshold machines that separate and isolate inhaling from exhaling, with a single calibrated level of resistance. Not to mention the unbeatable price point.

Expand-A-Lung in the car, in your recliner, on your back deck, or at the beach. There's never a bad time to Expand-A-Lung, the only exercise that leaves your lungs feeling better than before, instead of leaving you winded.

Only the Expand-A-Lung offers the widest range of resistance levels to meet anyone's needs. From a low resistance for respiratory rehab patients, gradually increasing to a high resistance level for competitive athletes. No other product can achieve this range with a single model.

To exercise, simply select the breathing resistance level with the adjustable valve, and then slowly inhale, hold and exhale through the comfortable silicone mouthpiece. (Simple exercise instructions are included with the product)

The Expand-A-Lung is the competitive athlete's secret weapon in the fight for faster times.