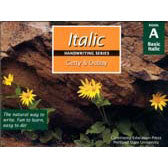 Italic Handwriting Series: Book A
$10.95
This is the first of seven books providing instruction in italic handwriting. It is designed for the beginning student of handwriting and is recommended for preschool, kindergarten, and/or early first grade.

The twenty-six lowercase letters and the twenty-six capitals are introduced one letter per page. Letters are arranged in the order of lowercase families, which group letters with similar strokes together and progress from simple to more complex forms.

Each page is designed for the student to trace the models, write letters at the given dots and in the blank spaces, and to write a "best" letter in the empty box on each alphabet page.