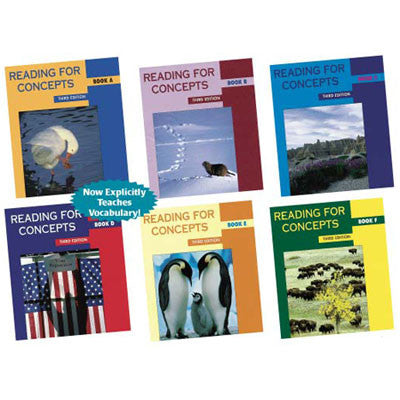 Reading for Concepts: Book D
$19.95
Interest Levels: 2-Adult/ESL
A new edition of a proven developmental and remedial program with a rich selection of articles unified by themes to develop comprehension skills and foster critical thinking.
New Feature! Now explicitly teaches the essential new vocabulary for every reading selection to boost student comprehension and to reduce teacher preparation time.Tightly controlled reading levels enable students to work at their own paces.Exercises following each article provide a consistent, unified approach to comprehension skills development.
Unit theme-concepts foster critical thinking skills.
A wide variety of contemporary articles from across the curriculum spark students? curiosity and motivate them to read more.
There are eight student readers. Their individual reading levels are as follows:
Book A: 3.5-4.5
Book B: 4.5-5.5
Book C: 5.5-6.5
Book D: 6.5-7.5
Book E: 7.5-8.5
Book F: 8.5-9.5
Book G: 9.5-10.5
Book H: 10.5-11.5